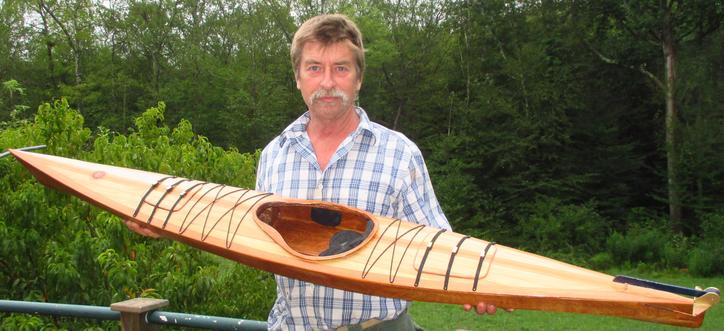 72″ Hybrid kayak, mahogany panels with poplar wood and red cedar deck, foam seats, knee pads, opening hatches, compass decal. Craft show display. Very nice. 71.5″ long, 10″ wide. Different wall or table top stands available. $450

55″ skin on frame kayak, stained a burnt red color, black seats. Scale model of Jeff Horton's Curlew. A nice conversation piece for the real kayaker. Detailed, very cool. $350 includes shipping

54″ Canoe Chandelier light beautifully done and ready to be installed over your bar, bed or pool table. This one includes 2 20 watt LED flood lights. (Non dimmable) Very nice canoe chandelier at a reasonable price. $950 includes shipping.

54″ canoe finished out using antiquing stains, rich red cedar ribbing and other parts. Very nice. $825 , includes shipping

54″ Red Cedar with Pine ribbing, semi-gloss finish. Wall bracket included with one finished scale paddle. Add LED light string with remote to illuminate the inside. Very nice, $775, includes shipping.

The Grand Laker! In a class of it's own. This one has been a display model and is in new condition. Hunter green with Red Cedar toe rails, seats, thwarts and deck caps. Comes with the CNC cut outboard and stand. Very proud of this model. 52″ long, $1250 (includes shipping)

42″ wood strip kayak. A beauty for the wall or mantel, it is sure to strike up many conversations. Painstakingly built as a display model for shows. Gloss finish. Comes with detailed paddle and walll mount. Many  hours go into this. $675 (includes shipping)
96″ Canoe Chandelier, with 5 6″ LED Flat panel lights, rich red cedar toe rails, seats, thwarts and deck caps. Weathered look light deck, nailed copper stem guards and much more. The top of the line canoe that I make. Absolutely gorgeous. Ready to hang and enjoy. Comes with 8 feet of cord. $1799 plus shipping. Contact me for exact shipping costs. Ships in a large plywood crate UPS Ground.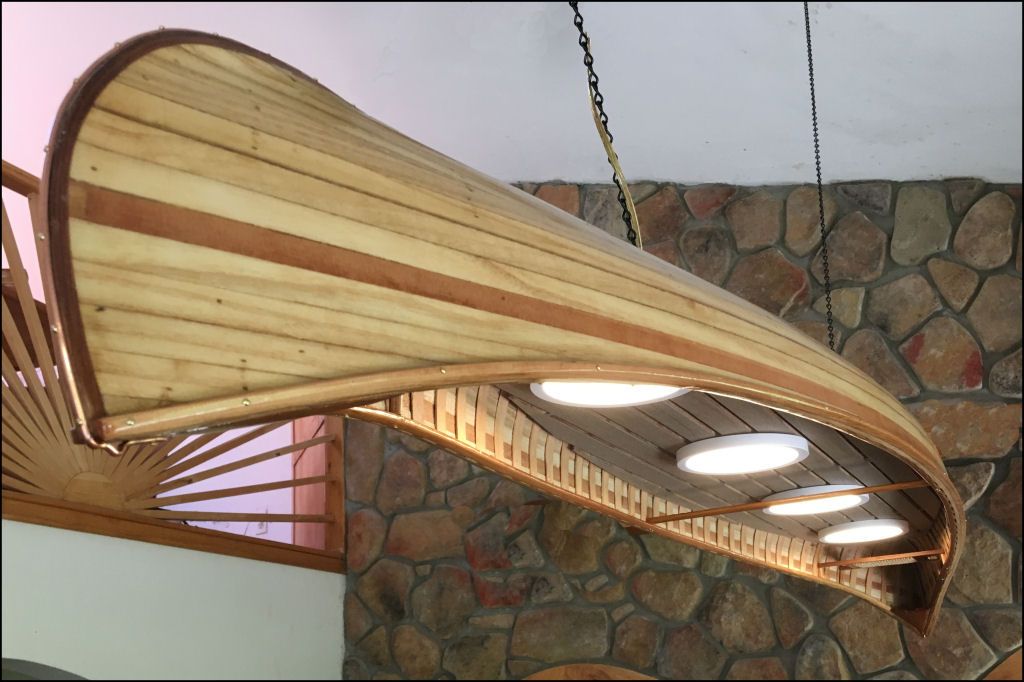 72″ Canoe Chandelier made out of Paulownia wood, a cedar like wood. Very nice clear coat brings out the beautiful grain. 4 LED flat panels light. Weathered grey light deck, Red Cedar toe rails, seats, thwarts, deck caps along with nailed copper stem guards. A real beauty that is waiting to be installed. Just plug it in and enjoy. $1375 plus UPS ground shipping.