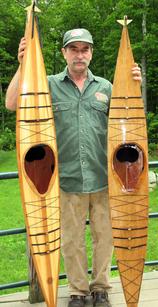 The 70″ Hybrid & solid deck stitch & glue kayak is the scale replica Chesapeake series. This model we are selling fully constructed as shown ready with the large fancy wall or table top mount. These are a great looking model to really dress up that bar or great room. They are well made and reasonably priced at $325 for the solid deck one and $ 399 for the hybrid. There is a large adjustable wall mount for this kayak below, More pictures available. Shipping about $40 in USA
There are many different buying options available when it comes to buying a completed ready to install 96″,72″,54″ & 36″ canoes. The Chandelier being the most popular! If you are not able to building your own from a kit, then this is for you!     
The beautiful 96″, 72″,54″ & 36″ finished canoe models, complete with scale paddles. Meticulousl built using White Pine strips with western Red cedar stems,thwarts, rails, seat frames, ribs and breast hooks. Ususally finished with a layer of 3 oz cloth & epoxy Built to last and will be a prized heirloom. Can be built to any stage so that the owner can finish the way they want. A week to ten days lee time.
Shipping is low for the 72,54, & 36, while the 96″ ships in a very large coffin sized boxed, carefully packaged via UPS ground. The finished models don't last long. I usually have one in the process of being built. I am selling off some of the demo models that are used at shows that I do. They are shown  below and priced to sell as complete models ready for display .   Email me for final costs with any added extras.

We have an older antiquish looking 54 for $699 +shp More pictures availabe at the 54″ page.Shipping is around $40 – $50
SOLD

54″ , Red Cedar with Pine ribbing, gloss finish. Brand new, $750.00 + shp.Same one sold as a light below.

54″ Canoe Chandelier beautifully done and ready to install over the bar or for reading light. 2 LED flood lights. Very nice canoe chandelier at a very reasonable price. $950 + shp.

This was an older 72″ with Hunter Green paint, bright stems, poplar parts with 4 lights. Very nice canoe chandelier at a very reasonable price. $800 + shp.

96″ complete canoe chandelier with 4 20 wt LED flood lights. Bright finish, red cedar parts, pine ribbing. A real beauty. Nothing like it out there. Can be bought as just the canoe or as shown with the lights. Very reasonable price. $1650 + shp. Add $100 for LED flat panel lights

72″ canoe only, no lights, for display, put in a pond, or use for some other decoration. Red Cedar parts, pine ribbing. $1050 with lights $1250, This is a large canoe. Semi-gloss finish. $75 shipping USA. The one shown has clear finish while most are stained an antique color as the 96 is below.